Guytie Exhibition 2018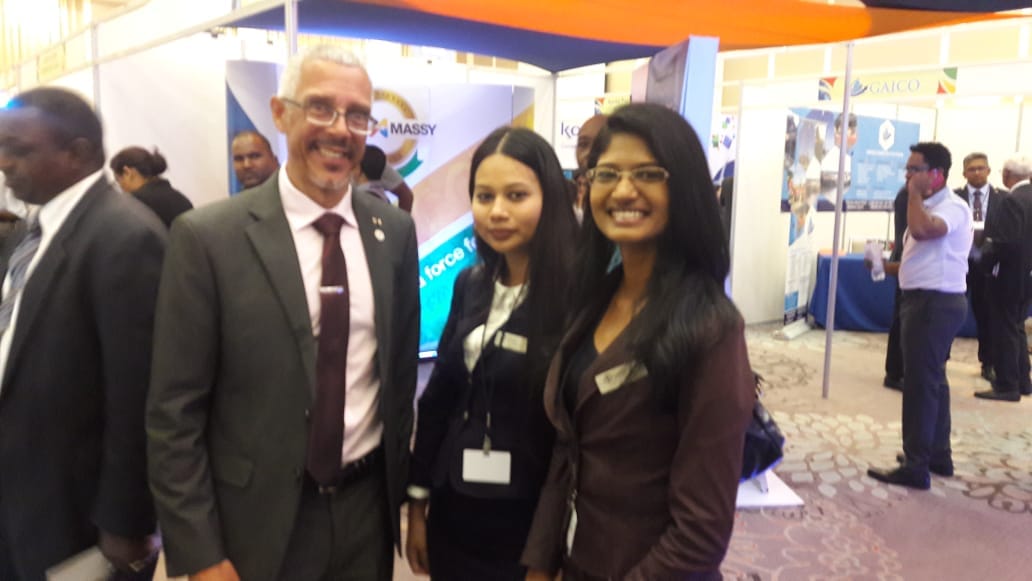 The Research and Development Team at Target Solutions Ltd visited the beautiful South American country of Guyana. In an attempt to understand the business sector of this diverse country, we attended the Guytie Exhibition 2018 where various businesses showcased their products and services both industrial type and small businesses that was facilitated by Mr. George Singh.
At the exhibition, there were approximately forty six businesses that showcased their products and services. A country which the world typically sees economically based on minerals has an entire side that the general population does not know about. Milling, manufacturing, and handcrafts are all a significant contributing factor to Guyana's economy.
We had the honor of meeting Prime Minster Moses Nagamootoo who warmly welcomed us to Guyana as he swiftly identified our Trinidadian accent alongside the Minister of Business Mr. Dominic Gaskin. It was truly an honor getting to interact with government officials who treated us with such kindness and warmth.
During our stay the Guyanese people were warm, friendly and so very welcoming. We greatly appreciated the hospitality as our team members had never been to Guyana before. Looking around Georgetown, the rich history of this country showed through the architecture of the buildings as it was noticeable of the previous Dutch influence and current native people who inhabit the interior of Guyana today.
The newly found energy sector that is arising out of Guyana stemming from vast discoveries of millions of barrels of oil has opened up multiple avenues for development. Currently Guyana is putting in infrastructure that is based around renewable energy. Solar panels can be seen on government buildings, street lights and businesses. There is a solar farm that produces a lot of energy that is used outside of the capital city of Georgetown.
Energy efficiency is important to the government and the people of Guyana. They understand the environmental issues arising from carbon emissions therefore they use alternate forms of transportation apart from vehicles to reduce the amount of CO2 that is released into the atmosphere by transporting goods with horses. As a developing country with respect to infrastructure, Guyana is putting the most energy efficient forms of renewable energy. They have the second largest waterfall in the world, the Kaieteur Falls which can be used for hydroelectric power.
The presence of ExxonMobil and Esso Exploration with the numerous number of oil discoveries amounting to millions of gallons of oil. The fact that they are investing the money that will be pumped into the country by foreign companies for their oil they are trying to put into the right type of infrastructure with regards to renewable energy